I promised that I would be handing out grades for each aspect of Washington sports, and by golly I'm going to do that.  Let's start with the NFL.
NFL
My Grade:  A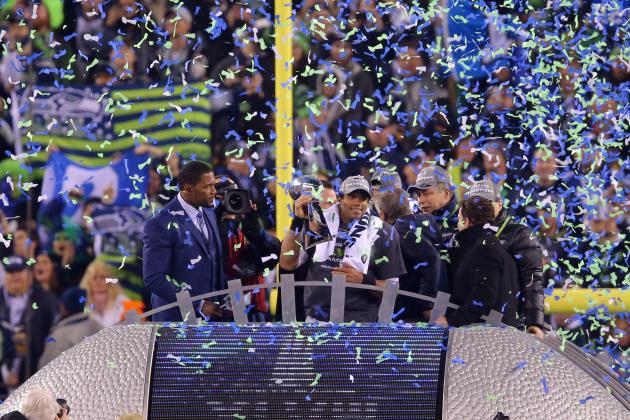 Any time you end a major championship sports drought for your city that earns an "A" in my book.  The Seattle Seahawks captured the first major male pro sports championship since 1979.  Granted the Seattle Supersonics aren't with us anymore, but the Seahawks had some very high expectations coming into this year and they more than lived up to them.  Let's see if they can get another one in 2014.
College Football
My Grade:  B-
The 2013 Apple Cup was the first time since 2002 that the Washington Huskies and the Washington State Cougars each entered with winning records.  Much to the anger of fellow Cougars I will be covering the highs and lows of both programs, but you need to understand that both of these programs contribute to the well being of our state.  UW was able to cap off a pretty decent offseason by signing former Boise State head coach Chris Peterson, and Cougar head coach Mike Leach was also able to put together a solid recruiting class.  Eastern Washington also did well, making it to the semifinals of the FCS Playoffs  This could have easily been a "B", but the Cougs had to blow that game against Colorado State.
NBA
My Grade:  B

Sonics fans should be happy knowing they don't have to deal with that man anymore.  Seattle might not be getting a basketball team anytime soon, but it's great knowing that a figure that blocked the sale of a team to Seattle isn't going to be around anymore. 
Also looking at the Portland Trail Blazers (the team closest to Seattle), they are having a great season.  They have improved drastically, and while they sit at #5 in the Western Conference, they still are only 4 1/2 games out of that #1 spot.  Now it's on to baseball
MLB
My Grade:  B
Let's start with the signing of Cano.  Sure it was a bold move of Seattle, but they were actually able to generate some excitement considering how being a Mariners fan for 23 years….well you don't really have a lot to be excited about.  Also the Mariners have been kicking butt in spring training.  They are 6-2 in Cactus League play, and while that may be a mirage it will get you going.  Can't wait for this season.
Men's College Basketball
My Grade:  D—
This should be getting an F.  However the Cougars were able to beat the Huskies for the first time since February of 2011 so that gets this department a passing grade but BARELY!  The Cougs are below .500, the Huskies aren't doing much, and to top it all off the Gonzaga Bulldogs (a #1 seed last year) aren't even ranked.  Cougar coach Ken Bone is probably going to get fired pretty soon as well.  Remember when Cougar football was terrible and Cougar basketball was good, well switch that around and that's where we are right now.
NHL
My Grade:  A-
The Vancouver Canucks haven't been doing well as of late, but the rumors that Seattle might be getting an NHL team are making me salivate.  Sure there's always a chance that the deal might fall through, but regardless this creates a lot of excitement for a city that had its basketball team taken away five years ago.
MLS
My Grade:  B


The Seattle Sounders get a B because they've had a great exhibition this year (going undefeated) and they went back to the playoffs last year. Sure they lost to the Portland Timbers in the Western Conference Semifinals, but they have done remarkably well considering their short history. They've been to the Playoffs every since year since their inauguration in 2009, and that is why they get a good grade from me, consistency.

Women's Basketball
My Grade:  Pass
The Cougar and Husky women both have a better record than the men, and the Seattle Storm look like they might be one of the better teams in the WNBA (they have two titles, 2004 and 2010).  We'll see what transpires.  The Pac-12 Tournament begins tomorrow and the Cougar women will be playing the Oregon Ducks while the Washington Huskies will be playing the Utah Utes.  Both have better seeds than the men.
LET'S GO COUGS!!!!!!!!!!!!!!!!!!!!!!!!
Stay Classy Everyone!
HOHOHO!